People across Bath and North East Somerset are being encouraged to get behind Clean Air Day and pledge to help tackle air pollution produced on the roads and in their homes.
Bath & North East Somerset Council is holding a series of pop-up events in Bath, Keynsham and Midsomer Norton to mark the national awareness day on Thursday 21 June.
And the council is being joined by pupils from St Andrew's Church of England Primary School, Northampton Street, who will perform their own 'Lets create an air revolution' rap at the Clean Air Day pop-up stall in Milsom Street, Bath, from 10-10.30am.
Forward-thinking youngsters from the school are giving the clear message that clean air counts and they explain what we can all do to help reduce air pollution, follow this link to hear them: https://soundcloud.com/bathnescouncil/lets-create-an-air-revolution.
During the day people will be on hand at the stall to talk about how we can all help tackle air pollution including car sharing, using public transport, cycling and walking more.
There will be advice on joining a car club, as a cheaper, environmentally better option for not having a second car as well as changing cleaning habits in the home and burning smokeless fuels.
People will also have the opportunity to look at some electric cars which will be at the three locations and there will be electric bikes also at Milsom Street.
Pop-up stalls will also be in Midsomer Norton High Street , from 12-1pm and  near Keynsham Library and One Stop Shop from 2-3pm giving people  the chance to make a pledge to help improve air quality.
And people will also be able to find out more about the council's plans for a Clean Air Zone, which will charge higher-emission vehicles for driving into the city.
Bath Clean Air Champions will be out and about from 10.15am-12.15pm and in the streets around Abbey and Walcot encouraging drivers who are idling their engine to switch off and they will be recruiting volunteers to get on board with their anti-idling campaign https://www.idlingactionbath.org/events2
An evening ten-mile round trip community cycle ride on the flat from Bath to Saltford, is planned, cyclists should meet at 5.55pm in Nelson Place, Bath. For more details go to   http://www.bathnes.gov.uk/events/cycle-ride-clean-air-day
And Green Park Bike Station is offering electric bike hire for the day for £20 (normal price £30) and 10% off its electric bike conversion kit. For more details go to https://www.greenparkbikestation.info/product-category/bike-hire/
Bruce Laurence, director of Public Health for Bath & North East Somerset, said: "We are encouraging people to make a pledge to do something which will help improve air quality. Air quality has a major impact on people's health, and everyone from national governments and motor manufacturers, to local councils, communities and individuals, has a role to play. The children at St Andrew's have summed it up perfectly in their rap. Whether you decide to walk instead of taking the car, cycle to work or use the bus, every one of us can make a small change to help improve air quality in our region."
According to the Royal College of Paediatrics and Child Health, air pollution is a contributory factor to some 40,000 premature deaths in the UK every year. Both long and short-term exposure to outdoor air pollution is known to adversely affect health. Short-term exposure can exacerbate asthma and respiratory and cardiovascular symptoms which interfere with everyday life.
Long-term exposure to everyday air pollutants over several years can contribute to the development of cardiovascular disease (CVD), lung cancer, and respiratory disease. In the most severe cases, it increases the risk of death, especially for people who are already vulnerable.
And organisers of National Clean Air Day say air pollution in the home is an invisible killer – with 13 sources of pollution including heating, mould, chipboard furniture, and fumes from everyday cleaning and personal care products.
In Bath vehicle emissions are the biggest cause of air pollution. To improve air quality, the Government has told 28 Councils in England – including Bath & North East Somerset – to achieve compliance with Nitrogen Dioxide (NO2)   limits 'in the shortest possible time' and by 2021 at the latest. This is part of its National Air Quality Action Plan.
There are a number of hotspots in Bath where concentrations of NO2 (caused by vehicle emissions) exceed the acceptable national and European limit of 40 µg/m3. This means the council needs to take urgent action by introducing a Clean Air Zone (CAZ).
A Clean Air Zone is a designated area in the city where the council can introduce measures to reduce vehicle emissions and cut pollution, with the aim of improving everybody's health.
The intention is to charge higher-emission vehicles driving in the centre of the city, but air quality improvements will be felt across the whole of Bath. To find out more go to www.bathnes.gov.uk/breathe
We're also encouraging everyone to make a pledge, and to share it with us on social media  #ourcleanairday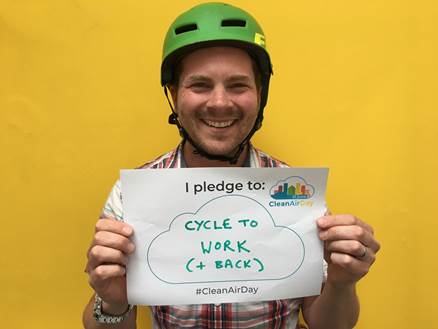 For more information on local Clean Air Day events and what you can do to tackle air pollution or to download pledge cards, go to www.bathnes.gov.uk/tacklingairpollutiontogether